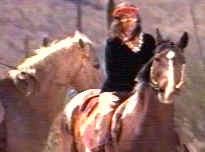 Please Note: Biographical stats shown below are disputed by most but not all credible historians!
Cochise: Niño Cochise (aka Ciye-Niño Cochise)
(b. 1874 -- d. 1984)
(Nationality: Native American, Affliation: Chiricahua Apache )

Trivia: Controversy still rages over the authenticity of Niño Cochise's claim
that he was the grandson of the real Cochise.



This is a hot potato issue with professional historians due to the fact that nearly all the claims Niño Cochise made before his death in 1984 are unverified and in most cases unverifiable. The official position of the modern Chiricahua Apache tribe is that the man was an out and out fake. He claimed to be the son of Taza, Cochise's eldest son who died of pneumonia while on a tour of Washington D.C. with a contingent of Chiricahua Indians in 1876. Taza's adult life was extremely well documented by contemporary writers and there is no record of his having fathered a child. He was never married.

Still, Niño was so successful in selling this idea in Hollywood that he soon became embraced by an entire sub-culture of revisionist "historians", to the extent that he secured for himself a one-time chance to portray his famous grandfather (by his reckoning) on an episode of "High Chaparral" in 1967. A few years later he got himself published, writing his own history to spite all the recognized historians. The book, "The First Hundred Years Of Niño Cochise", is available through this link if you feel you would like to read it and make up your own mind.

I'm afraid his stint as Cochise in the above mentioned episode is even less credible than his many claims. He may or may not have been Cochise's blood relative, but if so he must have physically favored his mother, whoever that was. Wisely, the producers kept his screen time short and silent. Nothing could be done, however, to erase the image left in mind after seeing him sitting horseback, slumped slightly, unremarkable in stature, projecting nothing more fierce than a blank gaze.